Ah, the start of another week. The good news is, it's May. I feel all warm and fuzzy knowing that winter could not be further away in New England. We get to look forward to seven glorious snow-free months and I am ready. Bring on spring!
For obvious reasons, one of the hottest trends in nail polish every spring is coral. It is a color that is off limits during the grey months of winter so it marks the change of seasons for me. Coral is bright, it's warm, it shows off a tan, and it always makes me think of tropical vacation destinations. You can't help but feel cheery looking at these shades. They are the perfect bold statement for spring. However, much like hot pink lipstick (see post here), you need to find the right coral nail polish shade that works for your skin tone. This means that shades of peachy melon or reddish orange may be more appropriate for you than a bright coral orange. Here are some of the best: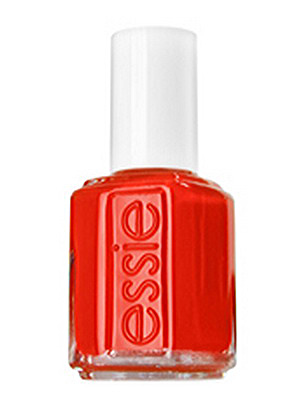 Top to bottom:
1. Chanel, Miami Peach- A pinky peach with a very subtle gold shimmer. Office friendly and totally chic.
2. Deborah Lippmann, Girls Just Want To Have Fun- Pink Orange. Feminine and fun. New color for Spring 2011!
3. Deborah Lippmann, Lara's Theme- Double Dutch Orange - Hot orange. For those who are bold. It was also featured in the May issue of Vogue. (*Note: In the magazine it appears much more red than it is in person.)
4. Essie, Clambake- A rich red orange. Perfect for toes.
Handling hangers, zippers, buttons, and tape all day means that my manicures barely last a whole week before chipping. When I got engaged this past winter, people were constantly asking to see my ring and I had to come up with a better solution for my nail. (Acrylics were not an option. In fact, they should be banned in my opinion.) Enter the god-send: gel nail polishes. I will never go back to ordinary polish for my hands. A gel polish manicure lasts me three weeks! And, because of the way the polish bakes on, it is dry when I get up from the table so my nails never smudge. When these polishes first came out, the color selection was limited, but not anymore. Here is the color I chose yesterday:
It's a shellac polish called Tropix, by CND. Out of the bottle it's a bright pinky coral and it is definitely putting me in the mindset for a new season. I've come out of hibernation! And so has the beautiful Kim Kardashian. She wore coral to the Kids' Choice Awards this year.
So, my fellow style goddesses, will you be wearing coral nail polish this spring?